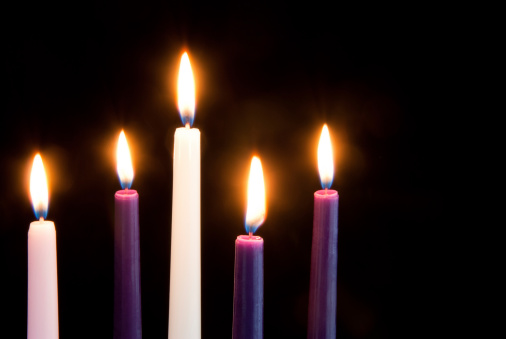 "In this the love of God was made manifest among us, that God sent his only Son into the world, so that we might live through him. In this is love, not that we have loved God but that he loved us and sent his Son to be the propitiation for our sins." 1 John 4:9-10
It's almost here. Only a few days to go. The excitement is building.
Yes, Christmas is right around the corner. Hopefully, all of your shopping and decorating is complete and you can enjoy the days ahead as a time to experience what Advent is meant to be, a time of reflection and preparation for Christ's coming, past, present, and future.
During this season, you will find an Advent wreath in many Christian churches. The wreath, with its four candles around the ring, has come to serve as a reminder of some of God's gifts to us. The candles traditionally represent hope, love, joy, and peace (though the order varies among churches).
While we might each have our favorite of these four candles, mine has always been love. While the bible is filled with expressions of God's love, perhaps no single writer captures it better than the apostle John. Sometimes called the "Apostle of Love" because of his attention to God's love in Christ, John brings the Gospel to life through his inspired writing.
John points us to an important truth today as we consider the words from 1 John 4:9-10, especially "not that we have loved God but that he loved us and sent his Son." In these few short words, John reminds us that the source of love is God. Any relationship that we have with God does not start with us but rather began long ago with God. He is love itself and demonstrates love in the most tangible way possible through the life, death, and resurrection of Jesus.
As the recipients of God's love in Christ, we are freed from the burden of sin and the fear of the future. The Father has wrapped us in His love that we can now express to others. So now today, let us pause to first give thanks to Him for sending His Son and loving us enough to call us as His own. His love gives us the true reason to celebrate this Advent season.
God of love, You did not spare Your own Son but sent Him into this world to save us. Grant us today faith-filled hearts that more fully experience Your love and can then express it to others. Prepare us this day for the return of Christ our Lord in whose name we pray. Amen.